WE ARE BASSETT SAN DIEGO
Our first Bassett location opened in San Marcos, November 1999. It started with a dream, strong relationships, and a commitment to excellence.   We are a small, family-run company with the support of our parent company, Bassett.  We are proud to have been able to serve our community for the last two+ decades and look forward to serving for many, many more.
OUR MISSION
It is our mission to provide the best value in home furnishings on the market. We specialize in designing spaces within each client's budget, style, and lifestyle; with integrity and accountability.
OUR STORY
"FAMILY" is at the core of our company.  From the true family whose dedication and ambition built this company, to the family we've fostered over our shared dream, it all comes down to the people for whom we do this.
OUR SERVICES
It is important for our clients to know that the exchange of money doesn't finalize a transaction with Bassett.  From the greeting, to the design of a space. The presentation, ordering process, delivery, and after-sales support, we strive to do it to fulfill your expectations and beyond!
OUR IMPACT
It doesn't stop with us.  We know that it is our duty to leave a mark, improve the chances for the future, and be good stewards of our community.  We proudly support the following charities:
Without our Team We Aren't US
Each member of our company is an integral part of our team.  One doesn't work without all the others.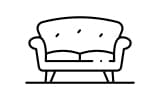 DESIGN TEAM
Need help? You're in good hands. We have a talented team of Design Coordinators at the ready who would love nothing better than to bring your visions to life!
REVIEWS
See what happy customers have to say